Sony har annonceret PlayStation TV, en lille medieafspiller, gaming konsol og remote for PS4.
PlayStation TV blev oprindelig lanceret som PS VITA TV i Asien tilbage i november 2013, men får nu et navneskifte i forbindelse med lancering verden over.
Det er en kombineret TV-boks og spillekonsol, der også kan fungere som extender for PS4.
PlayStation TV klarer selv PS Vita, PSP og PS1 spil, og som extender vil den også kunne spille spil fra PlayStation 4.
Udover spil, så vil den nye PlayStation TV også fungere som TV-boks og internet-adgang. Det betyder adgang til streaming-services indenfor film, tv og musik samt elektroniske bøger.
Finish er sort, og størrelsen er 6,5 x 10,5 cm.
Se også: Faktaark på PlayStation TV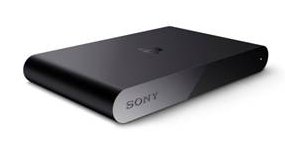 Pris og tilgængelighed
Sony PlayStation TV kommer til Europa til efteråret, til en pris omkring kr. 750,-
Main features of the PS TV


PlayStation 4 (PS4) Remote Play: As with PS Vita, PS TV supports PS4 Remote Play and Wireless Controller (DUALSHOCK 3 or DUALSHOCK 4). This will allow PS4 users in the living room to continue playing a game on a PS TV system in their bedroom. PS4 users can also enjoy most of the PS4 games on PS TV with excellent operability as if they are playing it on their PS4 system*1.



PlayStation 3 (PS3) games through PlayStation Now: PS TV users will be able to access the PlayStation Now open beta service that will be available by the end of this year in North America and at a later date in Europe and the PAL region. PS TV users will be able to comfortably enjoy PS3 games via streaming, by using Wireless Controller (DUALSHOCK 3 or DUALSHOCK 4).




Vast lineup of software titles available for download or via game cards: PS TV offers a vast lineup of over 1,000 software titles*2 from select PS Vita games, PSP (PlayStation Portable) games and PS One classics, including titles such as Disney Infinity: Marvel Super Heroes (Disney Interactive), Minecraft (Mojang/4J Studios), God of War: Collection (SCE WWS), and Killzone Mercenary (SCE WWS). Users will be able to enjoy all of these titles using the Wireless Controller (DUALSHOCK 3 or DUALSHOCK 4). Users can download games directly to the system through the PlayStation Store, or insert a PS Vita game card directly into the device.
Fun and unique features of PS TV



PS TV users can play games with PS Vita users through a local wireless Ad Hoc mode.




Up to 2 DUALSHOCK 3 or DUALSHOCK 4 controllers can be connected to PS TV, allowing users to enjoy multiplayer games from PS One classics titles.




PS TV will allow users to access movies and TV episodes available on PlayStation Store*3.




PS TV users can access the same services they enjoy on their PS Vita system*4, such as PlayStation Plus.




Videos or photos stored on the Memory Card or those videos being played on the ?Browser? of the PS Vita system can easily be transferred to PS TV to be viewed on a large TV screen*5. While being transferred, PS Vita can be used as a remote controller using the video player application.
SCE will continuously expand the world of entertainment through the PS TV platform by further enhancing its services and features.
*1: Games requiring PlayStation Camera cannot be played.
*2: As of June. Includes PS Vita games, PSP® (PlayStation®Portable) games, PS One classics (PlayStation® games). Since PS Vita is equipped with special features that cannot be supported on DUALSHOCK®3 or DUALSHOCK®4, such as touch screen, rear touch pad, motion sensors, camera, electronic compass and microphones, not all PS Vita games are playable on PS TV. Supported titles differ by country and regions.
*3: Users will need a SEN account to download content from PlayStation®Store.
*4: ?near?, ?Map?, ?Welcome Park?, and PS3 remote play features are not supported.
*5: The PS TV system and PS Vita system must be connected within the same network. Some movie files will not be transferrable or playable depending on the network environment, video data format. Videos downloaded from PlayStation®Store cannot be transferred between devices. PS TV and PS Vita need to have the latest system software installed.