På CES 2018 i Las Vegas er Nvidia klar til at vise deres Big Format Gaming Displays (BFGDs) til alle de hungrende gamere.
I samarbejde med flere forskellige PC fabrikanter er Nvidia klar med en G-SYNC monitor på 65 tommer, der har indbygget Nvidia Shield også.
Skærmene laves i samarbejde med bl.a. Acer, Asus og HP, og er med 4K HDR paneler. Så nu kan du få en 65 tommer gamerskærm til at stille på dit gamerbord.
Nvidia fortæller at BFGDs skærmene er klar på CES, og at de viser en af deres 65 tommer modeller frem her på CES. Vi skal nok kigge forbi og se hvad de kan. Men en ting er vi sikre på. De bliver ikke billige.
Vi har vedlagt den fulde engelske pressemeddelse nedenfor.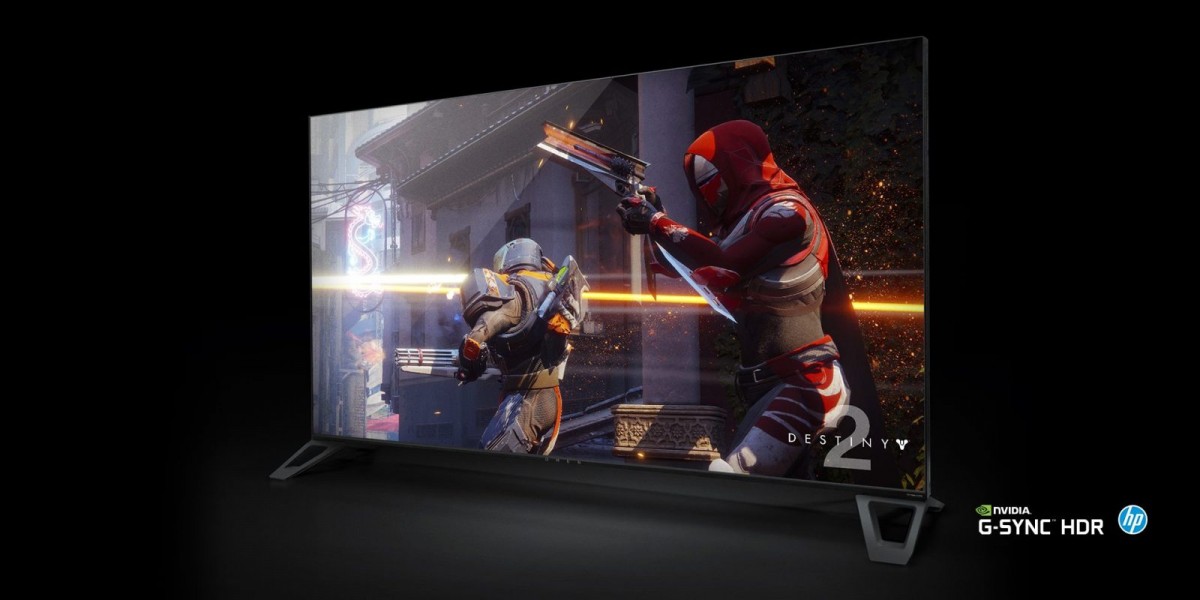 "BFGDs" Integrate NVIDIA G-SYNC and SHIELD to Deliver World's First Giant Screen PC Gaming Experience
CES — PC gaming today makes the leap to a giant screen, with NVIDIA's introduction of big format gaming displays, or BFGDs™.
Created in conjunction with NVIDIA hardware partners Acer, ASUS and HP, BFGDs integrate a high-end 65-inch, 4K 120Hz HDR display with NVIDIA® G-SYNC® technology together with NVIDIA SHIELD™, the world's most advanced streaming device. The combination delivers a buttery-smooth gaming experience and your favorite media streaming applications — all on a giant screen.
"PC gamers expect high performance and instant response times, but, until now, they've been largely limited to traditional desktop displays," said Matt Wuebbling, head of GeForce marketing at NVIDIA. "BFGDs change that. With NVIDIA's latest technology built into these new displays, PC gamers can now experience their favorite titles in all the low-latency glory they deserve."
At BFGD's Heart: G-SYNC HDR
At the heart of BFGDs is the latest G-SYNC HDR technology that synchronizes the display's 120Hz refresh rate to that of the game at every moment in time. This G-SYNC Variable Refresh Rate technology delivers a highly responsive, smooth, tear-free, immersive gaming experience unmatched by any display of this size.
Additionally, the 4K HDR display features a full-array direct backlight, 1,000-nit peak luminance and DCI-P3 color gamut for the ultimate in visual quality.
Ultra-Low Latency Gaming
Nothing is more important to gamers than responsive gameplay. G-SYNC technology brings the ultra-low latency found in G-SYNC desktop gaming monitors to the BFGD when gaming directly on the PC, Android™, another console or using NVIDIA GameStream™ technology from a desktop or laptop gaming PC.
Big Screen Streaming 
The integration of the Android TV™-based SHIELD into BFGDs allows gamers to easily switch between gaming and other forms of entertainment. The bundled SHIELD remote and game controller allow for easy navigation and access to all of the world's biggest streaming apps, including Netflix, Amazon Video, YouTube™ and Hulu.
With support for the Google Assistant, the entire experience can be controlled simply by using your voice. G-SYNC HDR technology also supports video playback at native framerates, including popular 23.976, 24 and 25 FPS formats. This matches the screen's refresh rate to the video source's actual frame rate, eliminating interpolation and presenting the video content as it was intended to be viewed by the director.
Availability and Pricing
BFGDs are available for hands-on demos at CES at the NVIDIA gaming suite and ASUS ROG showcase room at the Wynn Las Vegas by appointment only, and in the HP booth at the Pepcom and Showstoppers press events on Monday and Tuesday evening, respectively. General availability is expected this summer when pricing and further specifications will be announced.
Følg CES i Las Vegas på recordere.dk
Recordere.dk deltager på CES i Las Vegas, og du kan følge vores dækning af verdens største messe for AV-elektronik i vores
CES-sektion