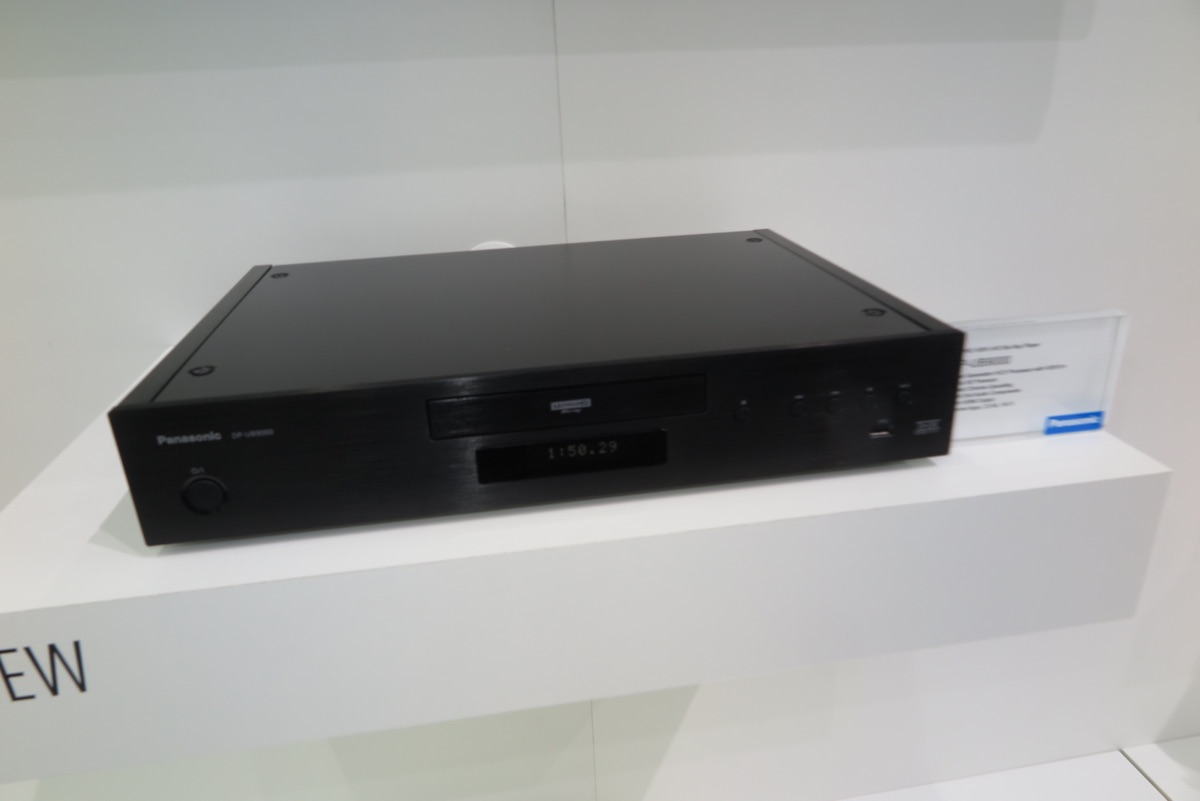 Panasonic UB9000 er en ny audiophil topmodel UHD Blu-ray, med bl.a. både Dolby Vision og HDR10+
Panasonic lancererer i disse dage deres europæiske produkter og blandt nyhederne er en ny flagskib model Blu-ray.
Det er en 4K Ultra HD Blu-ray-afspiller med audiophil lyd, og så klarer den såvel Dolby Vision som det nye HDR10+ med dynamiske metadata (konkurrenten til Dolby Vision).
Dolby Vision kommer til i en senere softwareopdatering.
Ligeledes vil den også få mulighed for styring via stemmen, med enten Amazon Alexa eller Google Assistant. Panasonic forklarede at dermed kan afspilleren for fysiske skiver også indgå i det stemmestyrede hjem. Alexa, start filmen på Panasonic Blu-ray.
Panasonic UB9000 kommer med 2 HDMI-udgange, en til video og en til lyd, og den er THX-certificeret.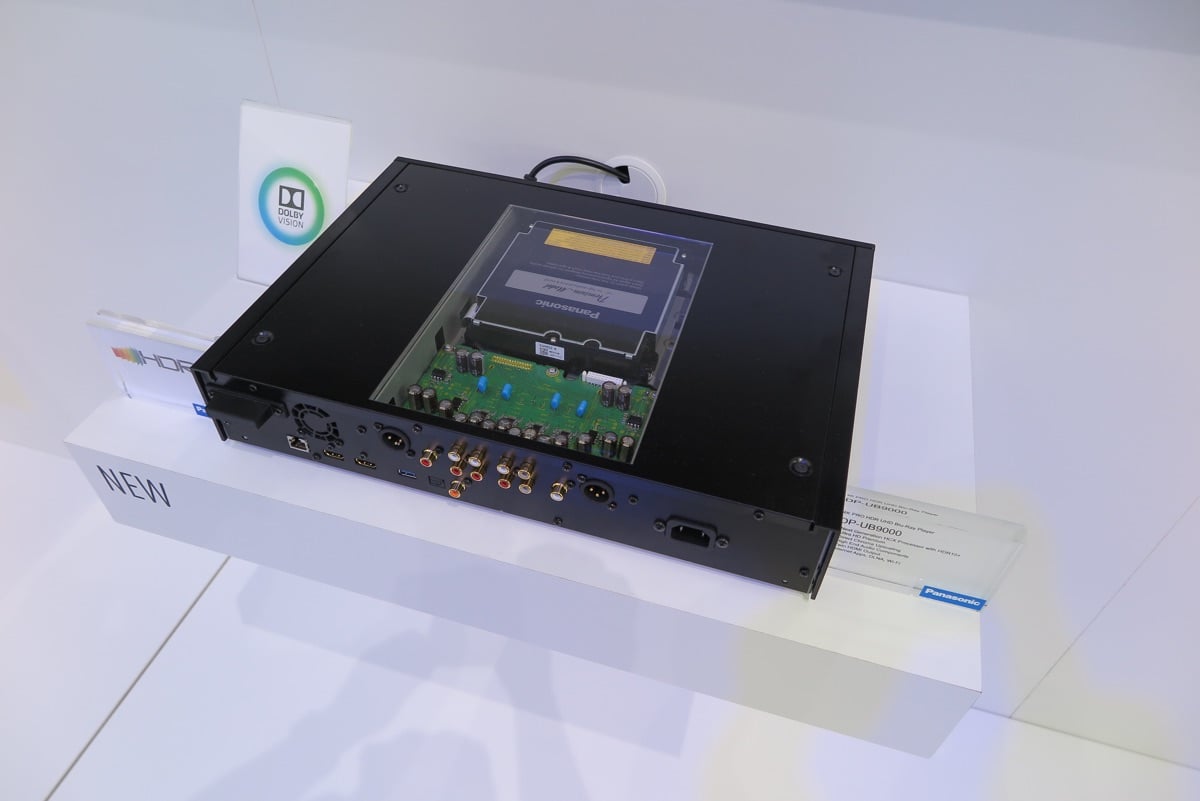 Audiophil lydkvalitet
UB9000 kan levere surround lyd via analoge udgange i det Panasonic selv kalder uovertruffen kvalitet. En model klar myntet på det audiophile marked.
Af audio codecs understøttes, udover de 'sædvanelige' WAV/FLAC/MP3/AAC/WMA formater, også DSD (11.2MHz***/5.6 MHz/2.8 MHz), ALAC og AIFF.
Indeni er audio og video kredsløb adskildt for at holde støjen nede og kabinettet er aluminium.
Pris og tilgængelighed
Panasonic UB9000 kommer til salg i Europa senere.
Prisen ventes at lande på omkring 9.000 kr.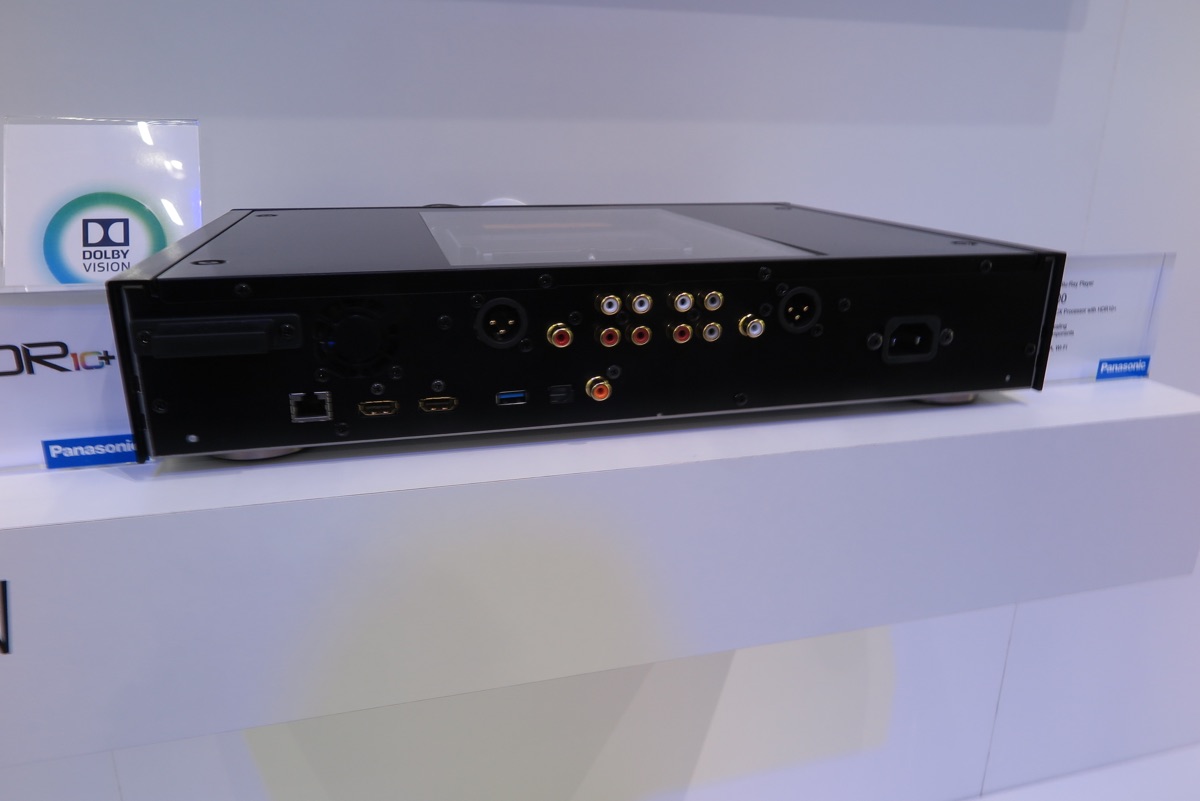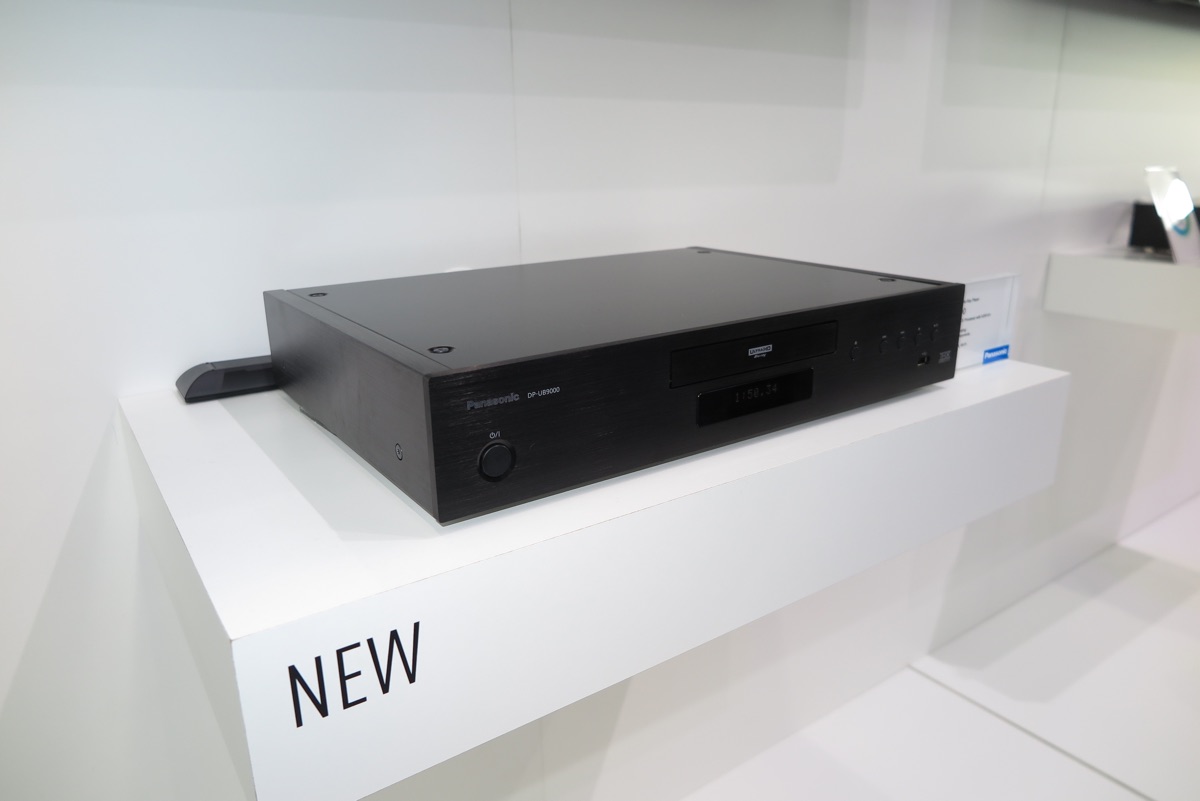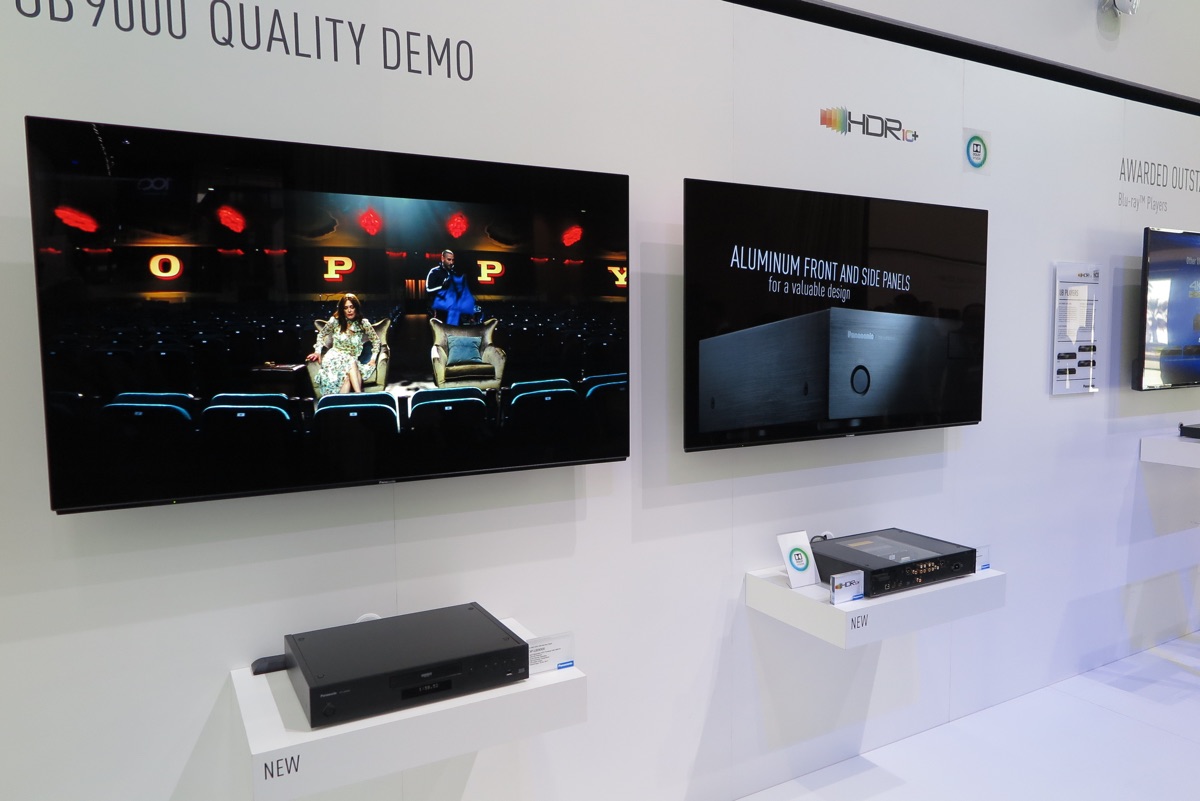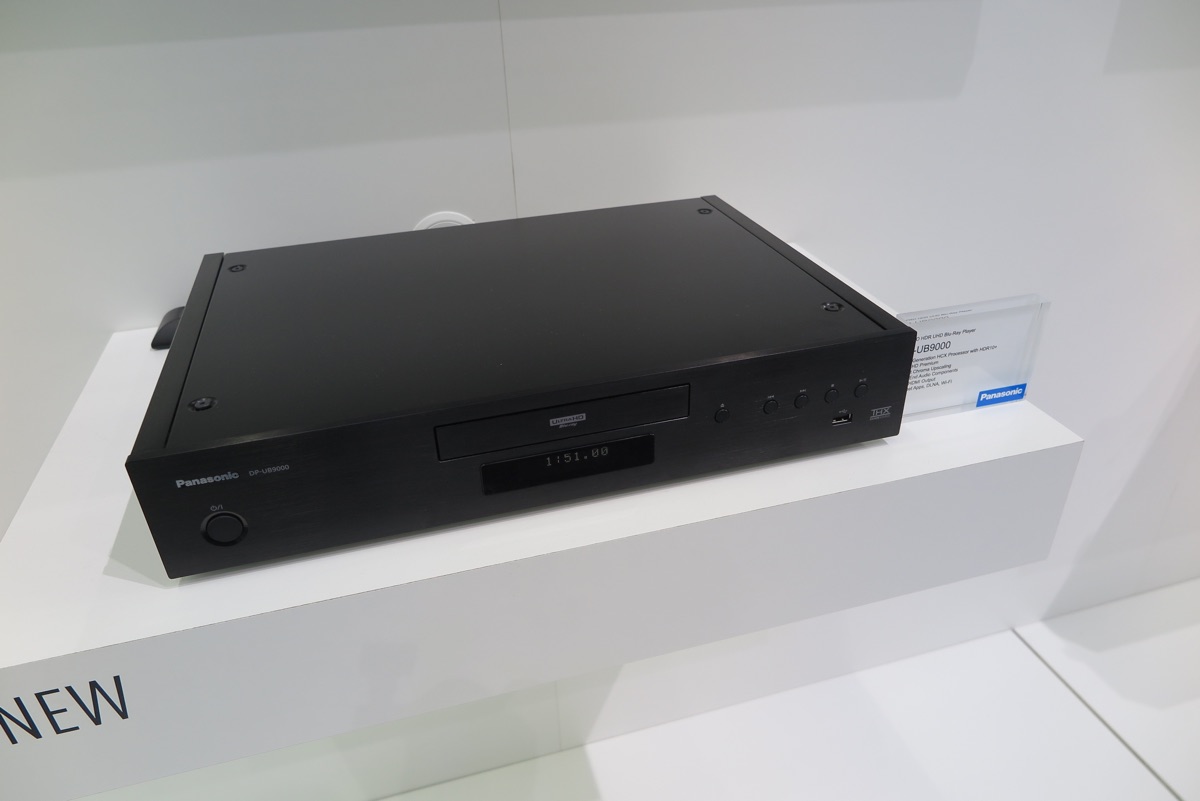 UB9000 Reference Quality Sound: Unique audio technologies achieve rich sound reproduction
Dedicated Audio Power Supply
1. AC/DC Conversion Circuit
The use of a positive/negative, isolated power conversion circuit for audio provides a high dynamic range, and reduces the voltage fluctuations and noise caused by digital circuits. In addition to this, high-quality audio grade electrolytic capacitors and a newly developed OFC (Oxygen Free Copper) switching transformer decreases the impedance of power.
2. 10-Line Isolated DC Regulator Circuit
The digital and analogue power supplies for the D/A converter are isolated. The analogue channel is further separated into 2 channels and 7.1 channels , and for the 2-channel output, the reference voltage of the left and right channels is isolated, making a 10-line regulator circuit and reducing mutual effects to improve distortion. Moreover, high-quality audio grade electrolytic capacitors are used in the analogue channel to minimise noise.
Analogue Audio Circuit
1. High-Performance D/A Converter
A high-performance D/A converter with input compatibility, high S/N, and high dynamic range is provided for each of the 2 channel and 7.1 channel circuits.
2. Special Circuit Board for Analogue Output
The analogue circuits for 2 channel and 7.1 channel output are mounted onto special glass-epoxy circuit boards. Together with the use of quality components, such as low-noise operational amplifiers and audio grade electrolytic capacitors, a totally balanced signal transmission is achieved by using differential circuits all the way from the D/A converter output to the XLR output terminal
3. 2 Channel (RCA/ XLR) and 7.1 Channel Output Terminals
The 2 channel and 7.1 channel output terminals are also separated. Moreover, the 2 channel output is equipped with a balanced XLR output terminal in addition to the RCA terminal.
Twin HDMI Pure AV (Audio/Video Isolated Twin HDMI)
The UB9000, UB820 and UB420 feature dual HDMI outputs for isolating and transmitting TV (4K video) and amplifier audio. By separating audio and video signals, unwanted noise is suppressed, resulting in high-quality audio reproduction.
Digital Tube Sound with Up-Sampling
The distinctive, warm, comforting sound characteristics of tube amplifiers are faithfully simulated on the UB9000, the UB820 and UB420. Six different kinds of sounds from vacuum tubes with 96-kHz/192-kHz up-sampling can be enjoyed in exceptionally high quality.
4K Camcorder Video and JPEG Playback
4K videos (MP4 format) taken with a camera or camcorder can be reproduced using Panasonic's 2018 Ultra HD Player, while JPEG data can be created in 4K resolution so you can enjoy the memories of vacation trips in all their natural beauty.
*1 Enabled by software update
*2 Requires broadband Internet service.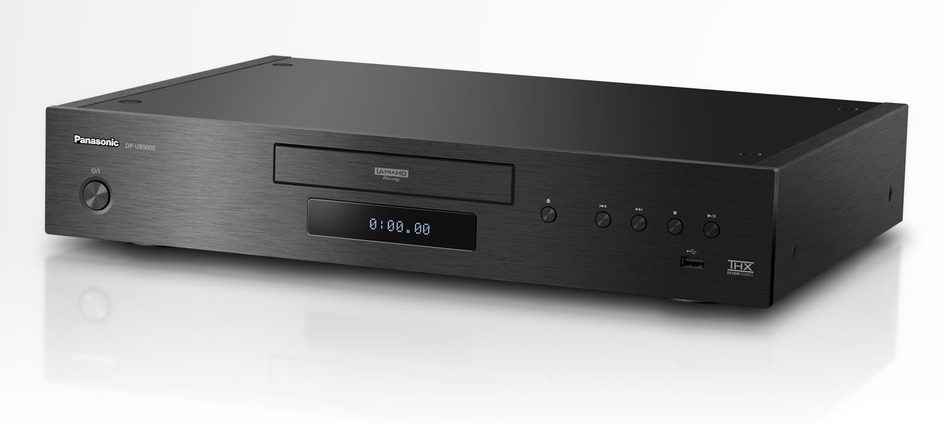 DP-UB9000 Series Main Features
High Quality Picture
– Ultra HD Blu-ray Playback (4K/HDR)
– HCX (Hollywood Cinema Experience) Processor for Ultra HD Blu-ray
– Supports HDR10+/ Dolby VisionTM dynamic metadata technology*1
– 4K High-Precision Chroma Processing
– 4K Direct Chroma Up-scaling
– 4K 60p/50p/4:4:4 Output
– HDR Optimiser
– FULL HD 3D Blu-ray DiscTM Playback
– THX Certified (Coming Soon)
High Quality Sound
– 7.1ch Analogue Audio Output
– 2ch Analog Audio Output (XLR/RCA)
– High-quality Audio Parts
– TWIN HDMI PURE AV (Twin Isolated Output)
– High Clarity Sound Premium
– HDMI Low Clock Jitter Process
– Digital Tube Sound with Up-sampling
– High-resolution Audio Playback (DSD (11.2MHz/5.6MHz/2.8MHz), ALAC, FLAC, WAV, AIFF)
– 192kHz/96kHz Surround Re-master
– High Rigid Chassis with Exclusive Design
Smart Features
– Viewing Experience Controlled via Voice
– 4K VOD*1 *2
– 4K Networking (4K Video/ 4K Jpeg Playback)
– Internet Apps*2
– Network Contents Playback
– Network Drive Access
– External HDD Playback
– Mirroring with Smartphone / Tablet
– Wireless LAN Built-in
– Home Screen Wallpaper
– Control by HDMI Connection