Ny Popcorn Hour A-410 Pro
Cloud Media, har netop annonceret en opdateret version Popcorn Hour. Den nye hedder A-410 Pro.
På IFA 2013 viser Cloud Media deres nye Popcorn Hour A-410 frem, der er en audio orienteret opgradering af deres nuværende A-400. Alt omkring video er det samme, men oven i får man nu et NUFORCE audioboard med preamp-processor (DAC) og mulighed for gengivelse af lyd i 24bit / 192khz.
Audio boardet er iøvrigt udskifteligt, hvis NUFOCE skulle komme med et endnu bedre. Der er både 7.1 RCA og 2.0 XLR udgange.
Cloud Media har også opgraderet interfacet en smule, men vil ikke garantere at den opdatering kommer til A-400.
Modellen kommer inden jul, og forventes at koste under 1.000 EUR. Den danske pris kendes endnu ikke.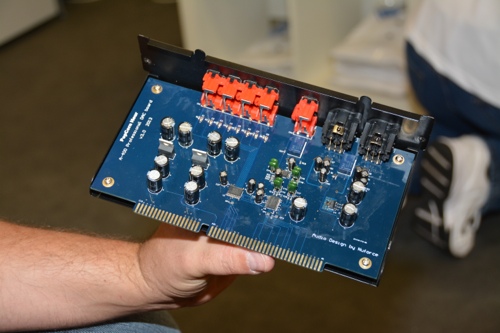 NUFORCE lyd i en medieafspiller. Ikke ringe. (FOTO: recordere.dk)
Her er den engelske pressemeddelse
Cloud Media Sdn. Bhd, a leading global manufacturer of digital entertainment solutions, is excited to announce the latest addition to the Popcorn Hour product line, the Popcorn Hour A-410 PRO.
The Popcorn Hour A-410 PRO utilizes the Sigma Design's Dual Core 800Mhz SMP 8911 chipset and combines the outstanding video capabilities with a high-end, all-analog preamp-processor. The 7.1 Audio output makes the product an ideal choice for home cinema enthusiasts and the 2.0 XLR balanced audio connectivity integrates perfectly into sophisticated home entertainment environments.
With a 24bit / 192khz onboard audiophile DAC the Popcorn Hour A-410 PRO can play back various audio file formats including the advanced DSD container. A dual power supply with a toroidal transformer for the audio preamplifier underlines the achievable sound quality.
On the video side a studio-quality VXP® processing is included, offering fully adaptive deinterlacing, adaptive Film Cadence Detection and adaptive contrast enhancement.
With support for Blu-ray 3D-Video, Full-HD video, several audio and photo codec?s and web content, users can experience their digital media how they want. The Cloud Media Apps Market, containing over 100 free and premium TV and audio apps, gives users a broad selection of additional entertainment via the web. Especially the latest premium app of the music service Qobuz – the world's leading platform for lossless streaming and high definition music download – offers a huge catalogue of all music styles in true CD and also in Studio Masters quality. So it is a perfect addition to the Popcorn Hour A-410 PRO. Today Qobuz is already available in France, Belgium, Switzerland, Luxembourg and additionally planned to open November 1st in Germany, Austria, The Netherlands, UK and Ireland.
The Popcorn Hour A-410 PRO will include some more exciting features to enhance the media playback experience. In addition to video metadata and posters, users can also download subtitles directly from the web without having to use a PC and select 1 of 22 different languages they prefer the information and subtitles to be downloaded in.
The NMJ navigator provides an even more natural remote control via a 2nd screen iPad® or Android® companion opportunity.
The Popcorn Hour A-410 PRO can be upgraded with an internal 2.5 and a 3.5-inch hard disk which can be mounted in a HDD quick dock, turning the device into a network attached storage device. Users also have the option of using the built in 10/100/1000mbs Gigabit Ethernet port or they can purchase a Wireless N Wi-Fi dongle. An SD card reader, USB 2.0 ports, and an eSATA interface are also included for external storage.
?With Popcorn Hour A-410 PRO we combine the latest audio with the latest video technology and open a new category of high end media players. This combination of advanced quality and ease of use makes a perfect package for our customers? said Manfred Karl, VP Sales EMEA region.
The MSRP for the Popcorn Hour A-410 PRO will be below ?1,000 in the European Community (including VAT). The first products are planned to be shipped in Q4 2013.