Samsung har netop lanceret deres europæiske tv-modeller i Portugal. Her er modeller og danske priser.
Alfandega Porto kongres Center i Porto, Portugal, dannede i år rammen om Samsungs europæiske tv-lancering.
Recordere.dk var med og i denne artikel vil vi samle op på modelserier, størrelser, tilgængelighed og danske priser.
De fleste modeller omtalt i artiklen her forventes klar i butikkerne i slutningen af marts.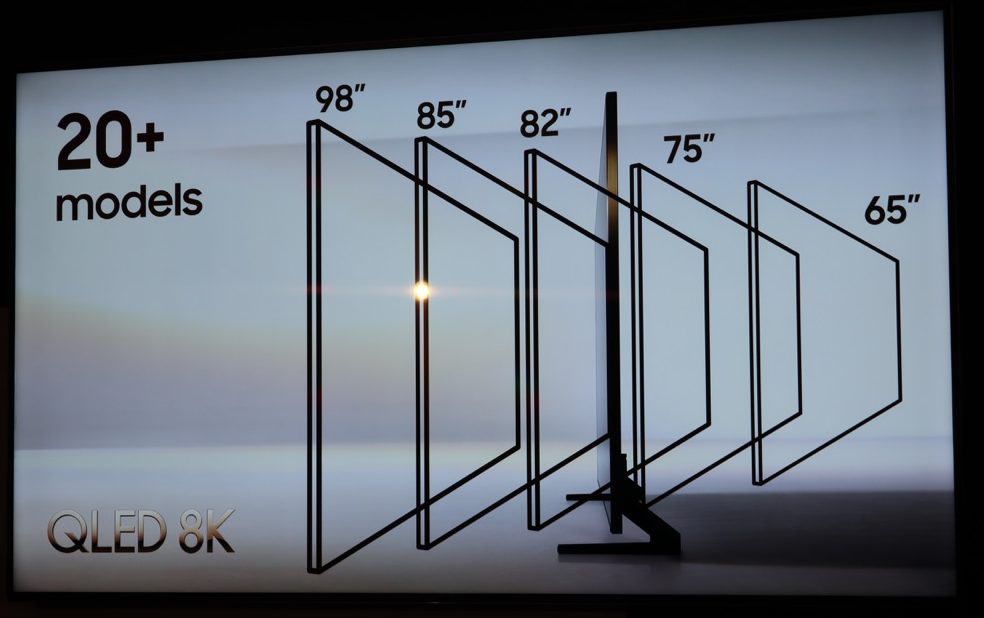 Forbedrede QLED i 4K og 8K
I årets QLED-TV serie findes flere end tyve modeller (!) som alle vil være tilgængelige i store størrelser med både 8K og 4K opløsning.
"I de seneste år har vi set flere kunder turde tro på, at Samsung QLED leverer en fantastisk oplevelse uden at gå på kompromis med designet eller kravet om at fungere optimalt både i lyse og mørke rum", fortæller Tommy Nilsson, ansvarlig for TV/AV hos Samsung i Norden, og fortsætter:
"I år imødekommer vi også dem, der ønsker at blive fuldstændigt opslugt i et gigantisk tv, med vores mest innovative teknologi hidtil".
Q950R har en 8K-opløsning og kommer i skærmstørrelser, som spænder fra 65" og op til 98".
Modellerne Q90R, Q85R, Q80R, Q70R og Q60R har en UHD 4K opløsning og spænder fra 43" til 82".
Med Samsungs videreudvikling af QLED-teknologien har 2019 QLED-modellerne en ny teknologi, som kaldes 'Ultra Viewing Angle' teknologi, som gør at baggrundslyset passerer mere kontrolleret gennem panelet.
Med denne teknologi bliver billedet skarpere med dybere sort og en bredere synsvinkel. En anden videreudvikling er, at de fleste modeller i år (fra Q70 og opefter) får en ny direkte baggrundsbelysning (Local dimming = Direct Full Array) som gør det muligt at justere lyset i enkelte dele af billedet, og som giver en mere bedre kontrol af kontrasten og det giver en større dybde i det sorte uden at påvirke den rene farvegengivelsen.
Med årets modeller kommer også med Samsungs nye 'Quantum Processor,' som med AI-baseret teknologi (brug af kunstig intelligens) kan skalere billedets opløsning, lysstyrke, billedkvalitet og også optimere lyden. Dette via en stor lokal database over de bedste scenarier til opskalering, en database der løbende opdateres.
Eksempelvis ligger der forskellige eksempler i databasen på hvordan græs bedst opskaleres, så når AI-billedmotoren møder græs kan den arbejde sig frem til et bedre resultat end klassisk opskalering baseret på algoritmer.
Alle 2019 QLED-modeller understøtter High Dynamic Range HDR10+, som forbedrer både lyse og mørke scener ved at optimere kontrast. 8K-modellerne Q950R understøtter også 8K-video op til 60fps, gennem HDMI 2.1.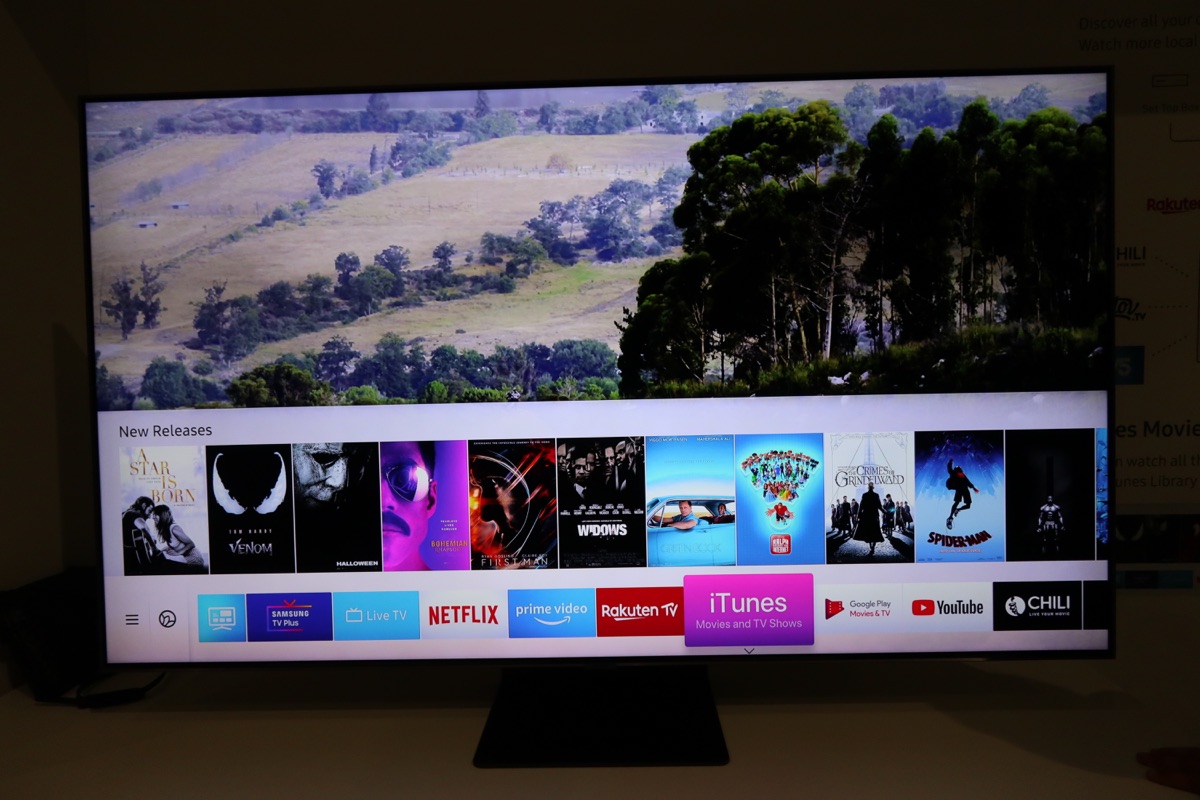 Talestyring, iTunes og Airplay 2
De nye modeller er udstyret med Bixby talestyring på engelsk, og i år er der også integreret stemmekontrol via Google Assistant i skandinavien.
Talestyring kan eksempelvis benyttes til at slukke eller tænde TV'et, eller hæve og sænke lydstyrken.
For at kunne tilbyde mere underholdning, åbner Samsung op for at anvende iTunes Film og der er kommet understøttelse af Apple AirPlay 2.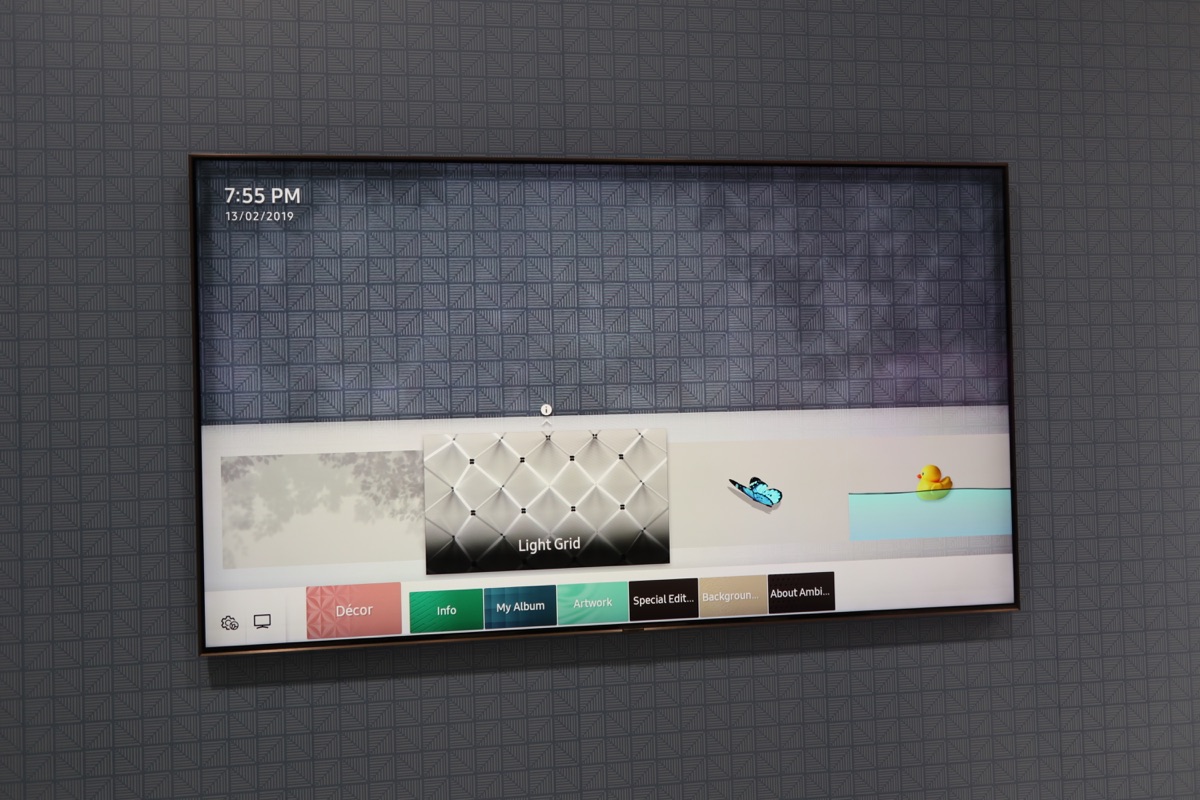 Ambient Mode med flere muligheder
Ambient Mode gør det muligt for forbrugerne at kunne tilpasse deres tv, så de passer til deres unikke hjem og stil.
Man kan vælge, hvilket indhold og oplysninger der skal vises, når tv'et er i Ambient Mode, hvilket kan være alt fra tid, vejr, fotos eller kunstværker.
I årets modeller er udvalget af temaer blevet udvidet for at gøre det endnu mere personligt. En automatisk lyssensor monteret på bunden af fjernsynet justerer også lyset og optimerer energiforbruget.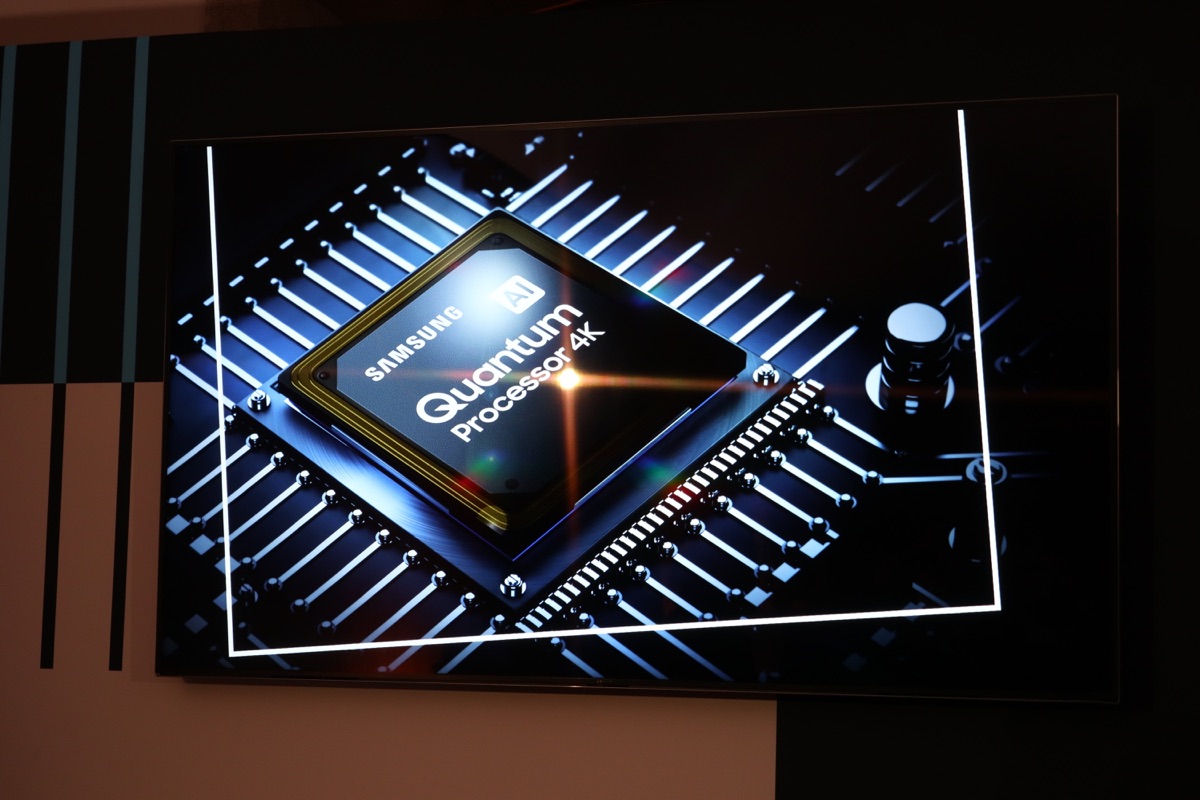 The Frame og Serif, nu med QLED
Her på Samsung European Forum præsenterede Samsung også nye versioner af de populære designer TV, The Frame og Serif.
Begge er udkommer i nye udgaver, nu også med QLED-display.
The Frame har en dvalefunktion, der gør TV'et til et kunstværk. I stedet for at skærmen bliver sort, som når du slukker for et almindeligt tv, forvandles skærmen på The Frame til digital kunst, som man selv vælger.
Nu med mere end 1000 kunstværker i flere kategorier at vælge imellem, er der noget for enhver smag og stilmiljø. Sammen med forskellige kunstlayouter og farver samt tilbehør, som f.eks. Udskiftelige rammer, er The Frame nem at tilpasse til personlig smag og livsstil.
Modellen Serif er designet af Ronan og Erwan Bouroullec, hvor designet går ud over det generelle billede af, hvordan et tv skal se ud. Serif TV defineres i stedet af sin form, hvor profilen skaber silhuetten af et "I".
Modellen vil være tilgængelig i 43 ", 49" og 55 "og erstatter de tidligere modeller og størrelser.
Både The Frame og Serif lanceres i Europa fra og med april 2019.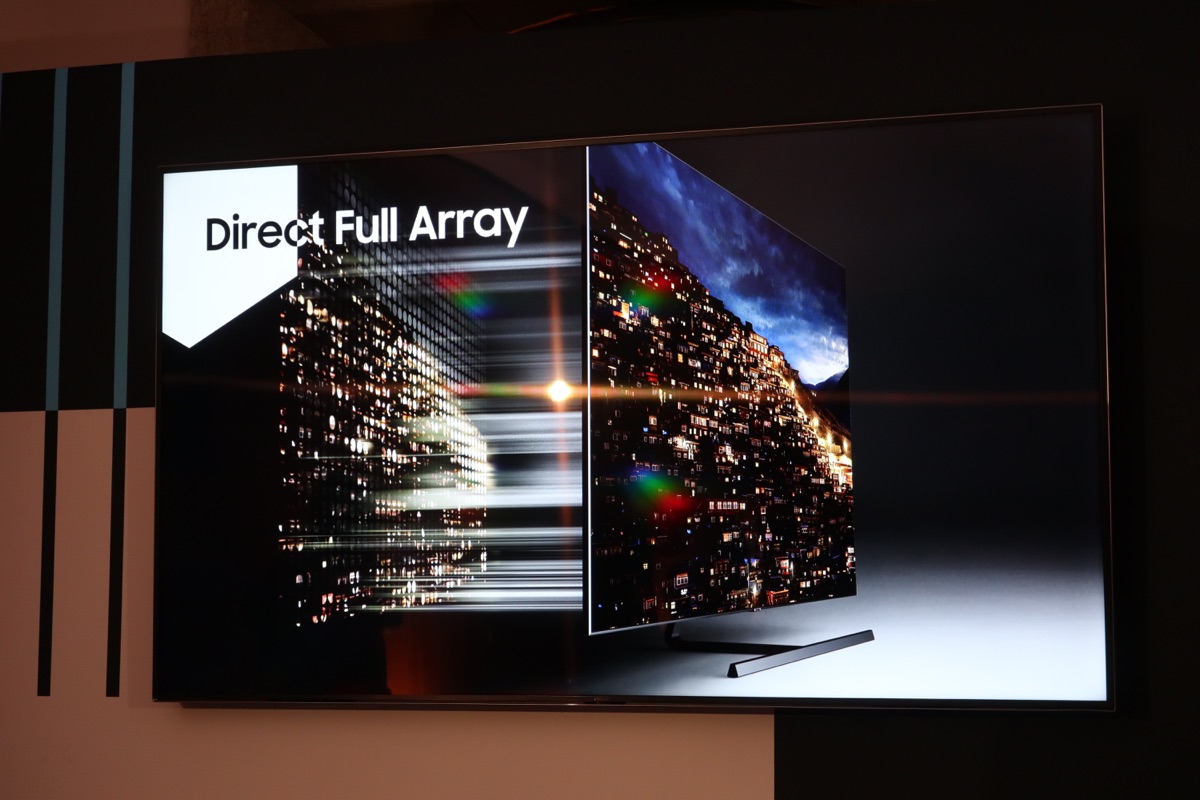 Samsung 2019 TV-modeller
Her er 2019-modellerne forklaret (på engelsk)
RU7105 and RU7305
The range starts with a solid UHD TV model. RU7105 is a true 4K UHD model and can be found in screen sizes up to 75". New this year is HDMI-Auto Detection.
This means that the TV will detect all devices that are connected via HDMI, and it will identify the most common digital TV-boxes, game consoles and media players. Then you will be able to control them using the TV remote control alone.
In 2019, we also get Bluetooth in this model, making it possible to connect wireless headphones or other devices to the TV. From RU7105 we have also introduced an automatic game-mode that will recognize the game console it is connected to and adapt the picture response. While the RU7105 has a flat screen, the RU7305 has a curved cinematic screen.
RU7405 and RU7415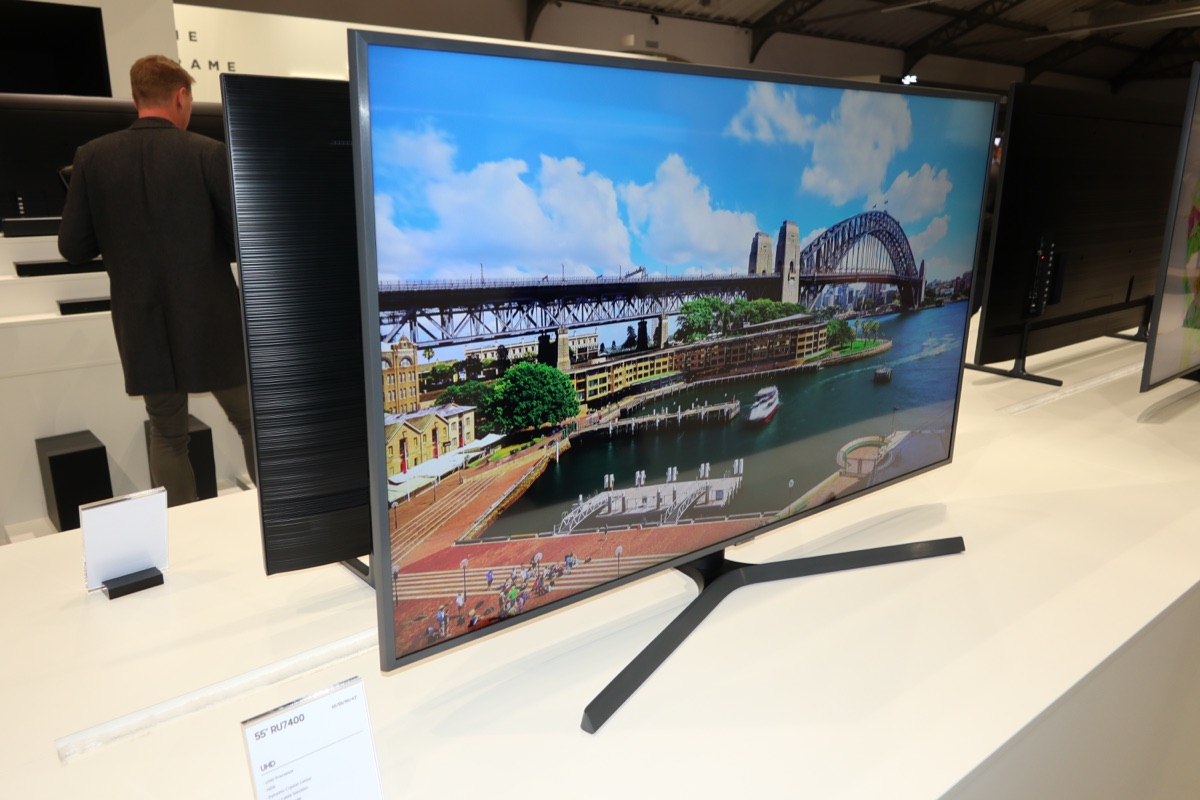 Taking the step to our Advanced UHD range, will give you Dynamic Crystal Color, and a wider range of color nuances.
The receiver has built in tuner for satellite broadcasts, and there is a PVR function to allow recording to an external HDD. Also the design takes a step, with a sleek center stand.
These TV's comes with the Samsung One Remote Control. This year it has separate direct keys for three streaming services; Netflix, Amazon Prime and the new Rakuten service.
The RU7415 is a new version with all white finish.
RU8005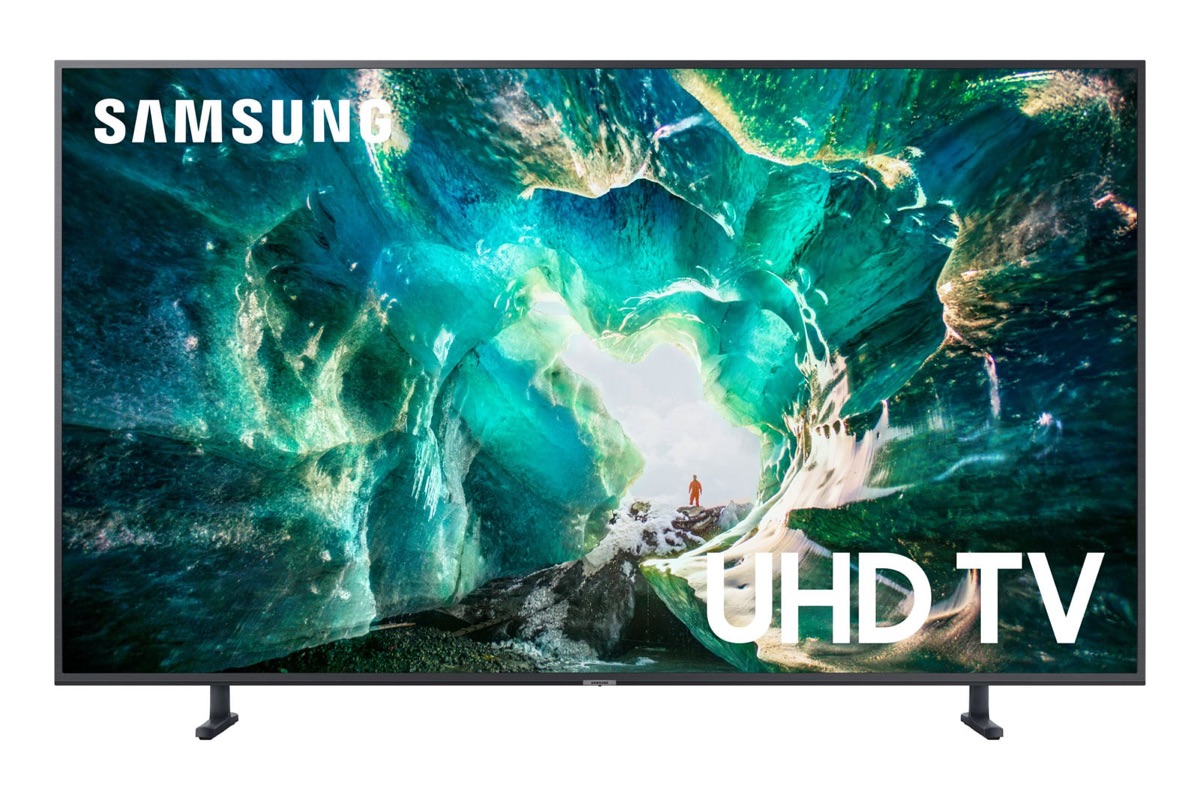 With NU8005 we step up to our Premium UHD range. It has a more advanced panel with higher frame rate giving it better motion sharpness (55" inch and higher).
The viewing angle has also been improved so that you can view it from the corner of the sofa, and still have great picture. Maybe the best feature, is the new and improved Real Game Enhancer.
To give you the fastest possible connection, RU8005 supports Freesynch2 with HDR. This allows the screen refresh be synchronized to the game console or PC, so that the image remains sharp and without tearing. It also has a new Dynamic Black Equalizer that help to bring your enemies out of the shadows.
Q60R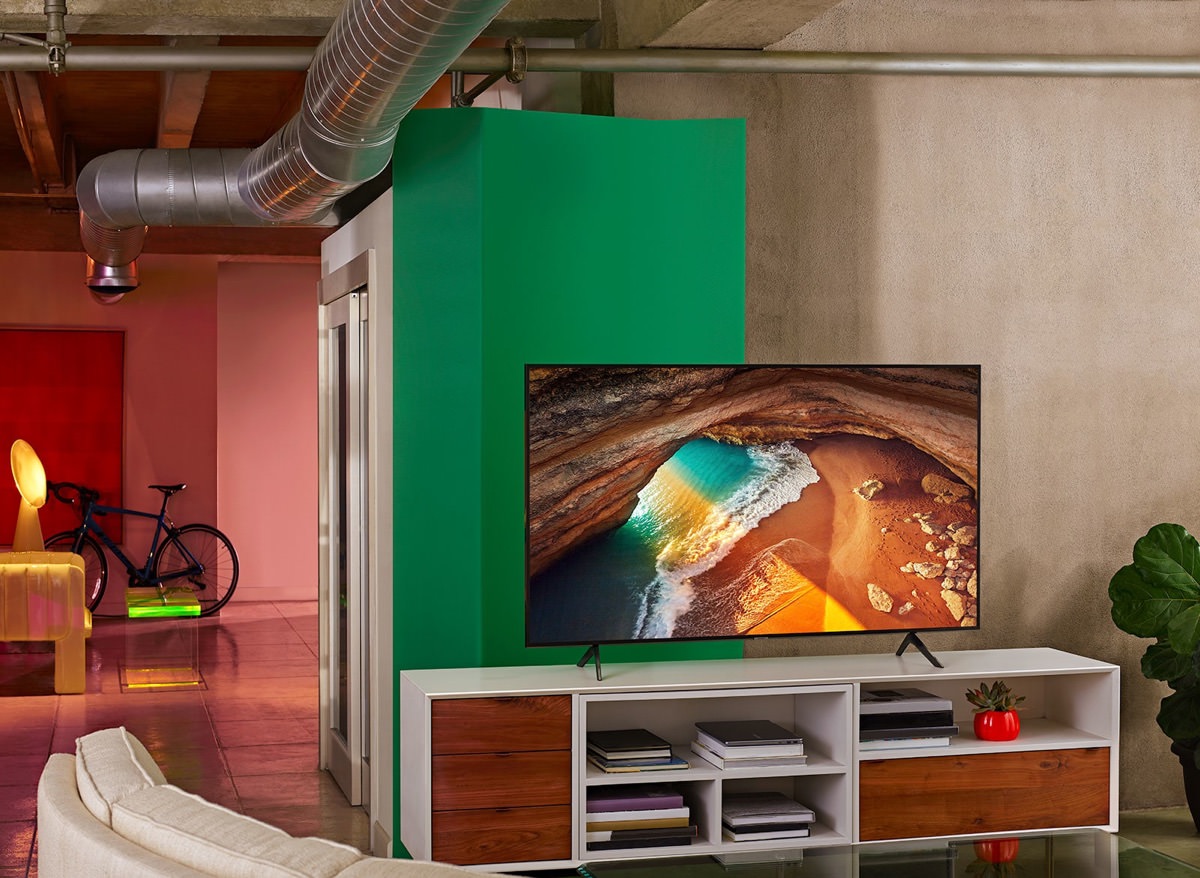 And so we reach the QLED TV models. These are TV's that use Nano-sized Quantum Dot particles to create the colors in the TV.
The blue color comes directly from the LED-light, while the red and the green colors come from the highly effective Quantum Dot layer. This will give the TV 100% Color Volume, and the colors remain strong and true even in the brighter scenes where other TVs may look weak and washed out.
The Q60R, like all our 2019 QLED models, use the all new Quantum Processor 4K to take care of the advanced upscaling algorithms. It will also adapt the picture and audio to the environment around the TV to deliver a great experience wherever you decide to use it.
The Ambient Mode feature has got a great update, and can now offer many more modes that makes it possible to let your large TV blend into your home environment at the touch of a button.
Q70R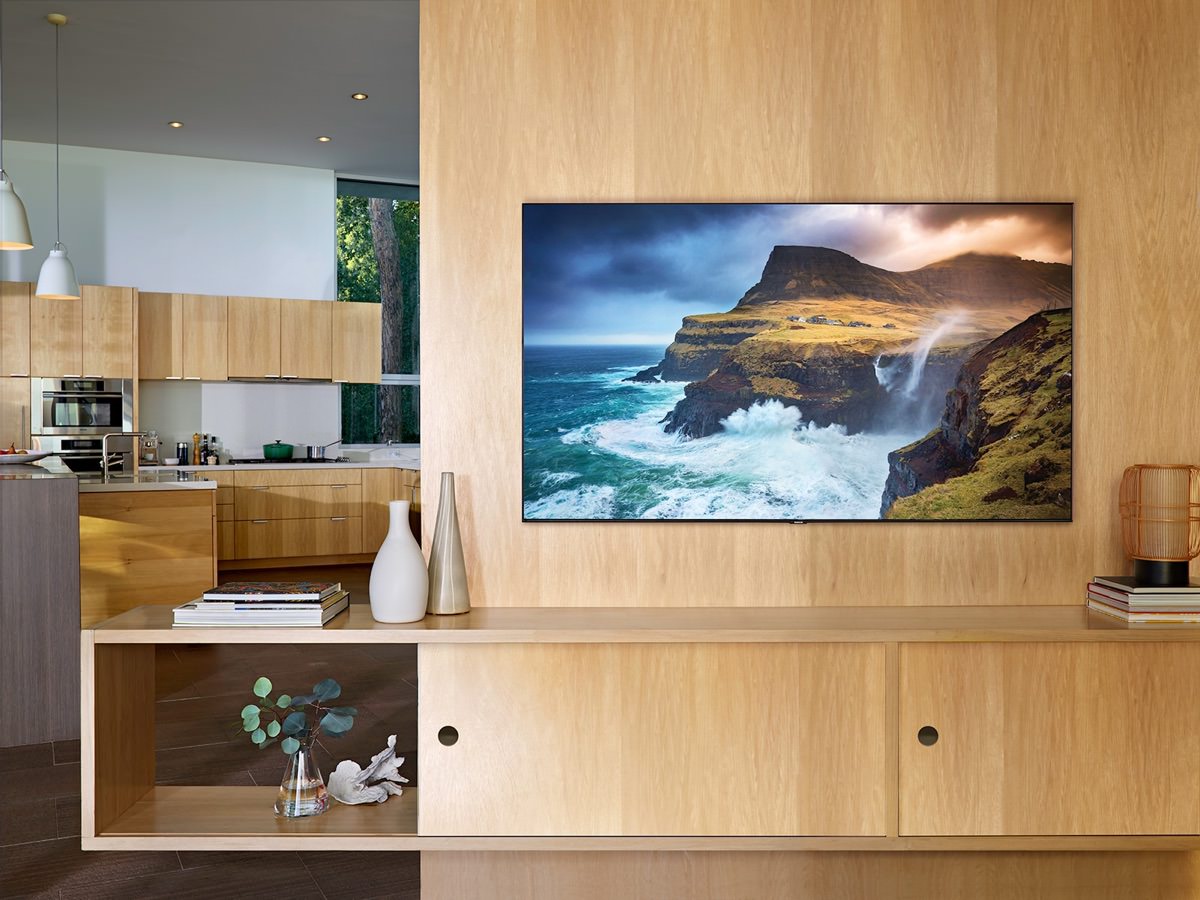 With the Q70R we introduce Direct Full Array backlight, sometimes also referred to as FALD (Full Array Local Dimming).
This is an advanced technology that allows for a better control of the light distribution and improves the contrast and black levels. The backlight is divided into small zones that can be controlled and dimmed individually. The brightness is also stronger.
With Q HDR 1000, the Q70R is well equipped to deliver great color and contrast also in a brightly lit room. A separate woofer has also been added, to give the built in audio better bass performance.
The design is also more sophisticated, without bezels that would cover any part of the screen, leaving the image almost floating in the air. (43" and 82" models however, still have a bezel at the bottom of the screen).
Q80R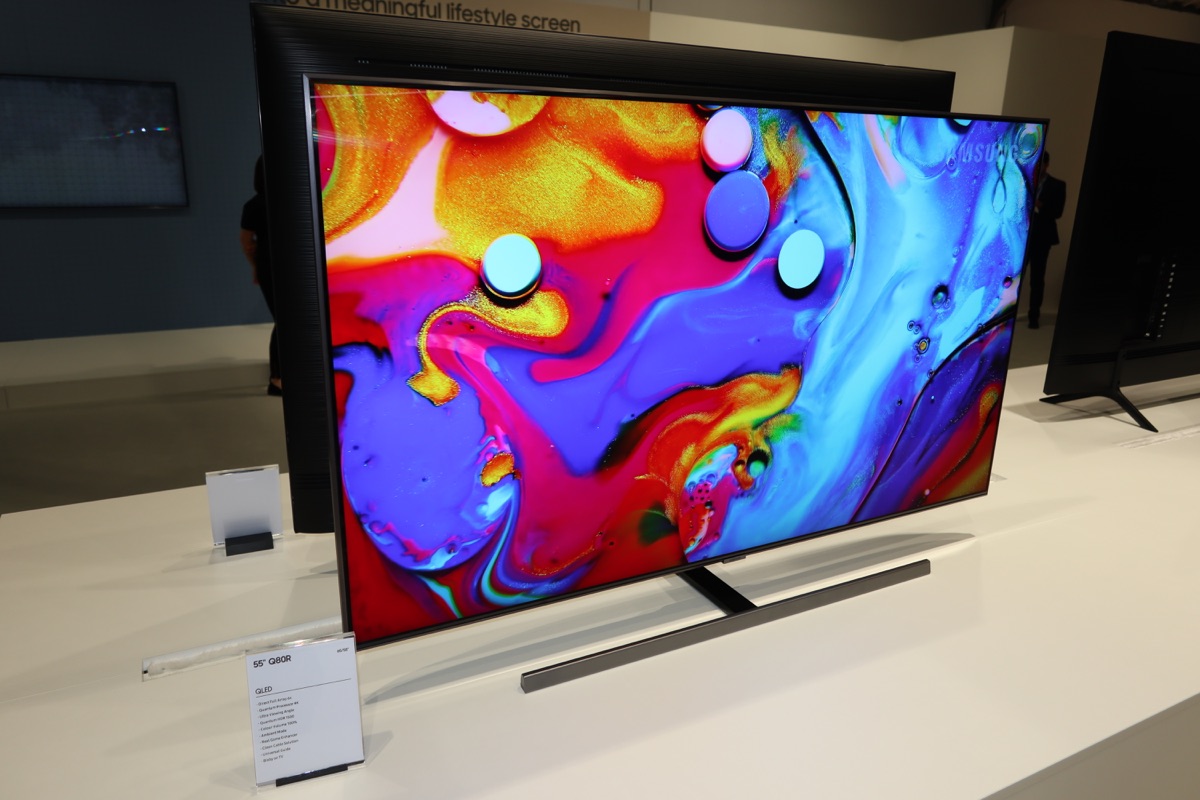 In this model we see even more of the new 2019 QLED technology. The Q80R has a new light control system that deliver Q Ultra Wide Angle.
It aims the backlight directly towards the front, reducing light leakage to a minimum and delivering superb black-levels and gets rid of blooming. It will allow all colors to spread evenly at the surface of the panel.
The result is a much improved viewing angle. This is useful if you have seats that will view the screen at an angle, for instance in a wide sofa. The Ultra Black Elite anti reflection coating also dramatically reduces the screen reflections, so you can enjoy deeper blacks and undisturbed viewing.
The Q80R can deliver Q HDR 1500 for even better punch in HDR scenes.
Q85R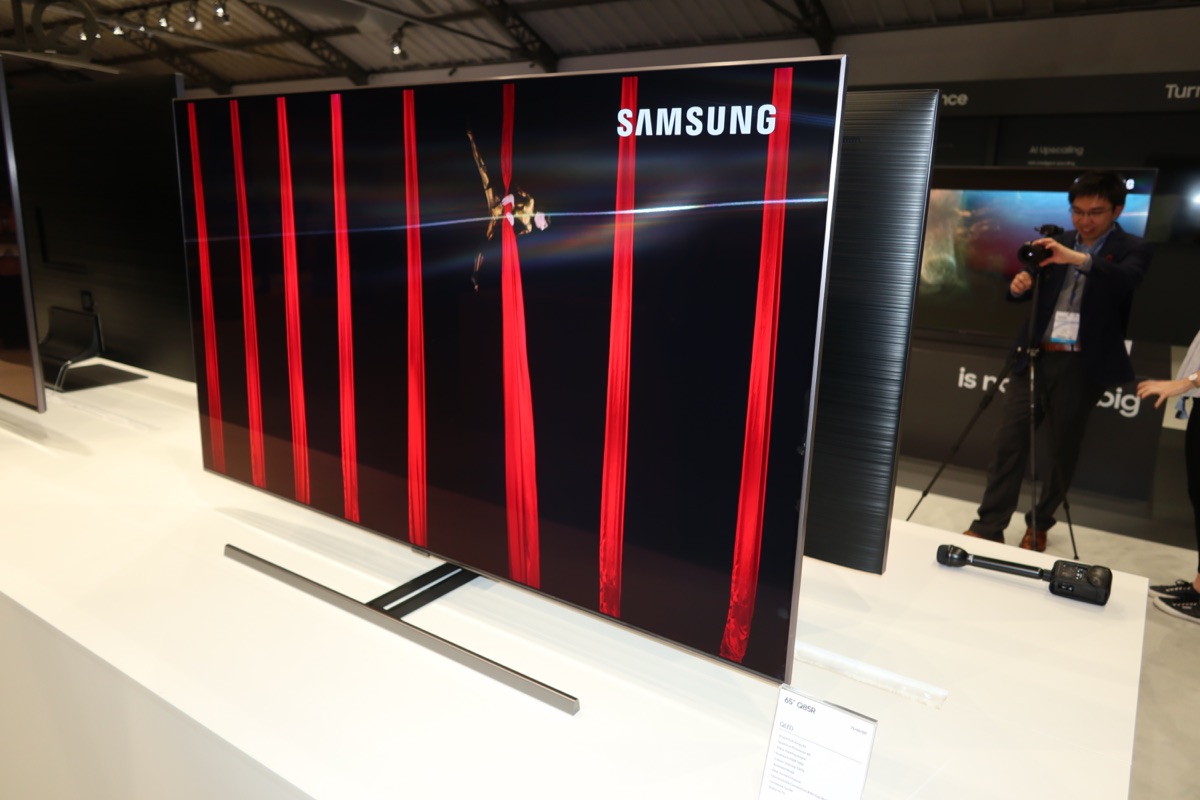 The Q85R add the Q Style benefits. It ships with the versatile One Connect Box, and the convenient One Invisible Cable, making the set-up easy and beautiful.
If you want to place the TV on the wall, this model comes prepared for the No-Gap Wallmount that will give you a super slim installation that is as easy to install, as it is beautiful to look at.
The Q85R comes with the premium metal version of the Samsung One Remote Control. On top of this, it has even better precision in the backlight control, with Direct Full Array Plus.
Q90R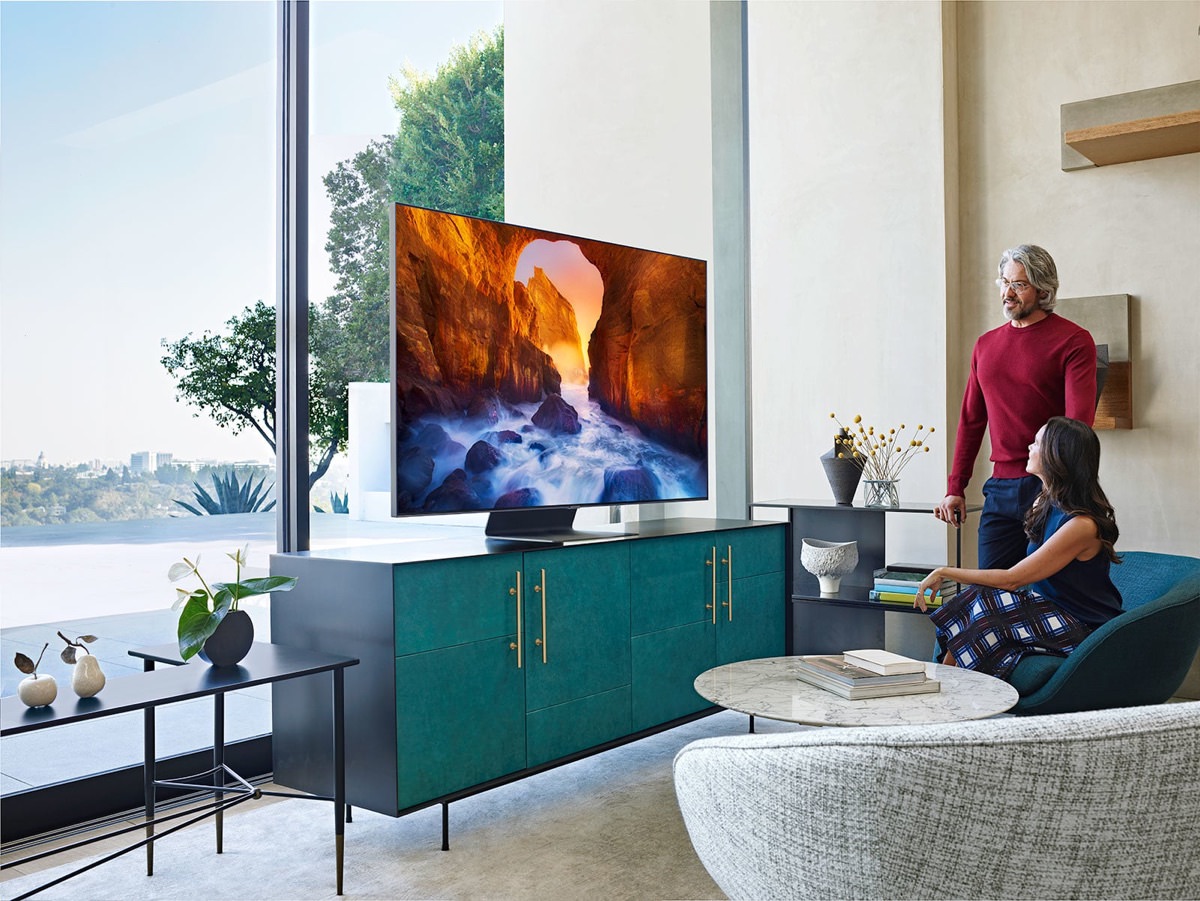 And so we reach the pinnacle of 2019 QLED 4K. The Q90R is our most advanced 4K UHD TV. With Direct Full Array Elite it uses our best light control technology, resulting in awesome contrast, superb blacks and intense brightness.
Q HDR 2000 makes your favorite HDR movies come to life, day or night, with rich lifelike colors. The Quantum Dot colors and the Adaptive Audio are orchestrated by the new Quantum Processor 4K.
This premium QLED TV will also tick all the Q Style boxes. With One Connect Box, One Invisible Cable, support for No-Gap wallmount and the updated Ambient Mode, it will be a beautiful addition to any home.
This is also emphasized by the stylish metal finish, the new flat foot and the premium metal remote control.
Q950R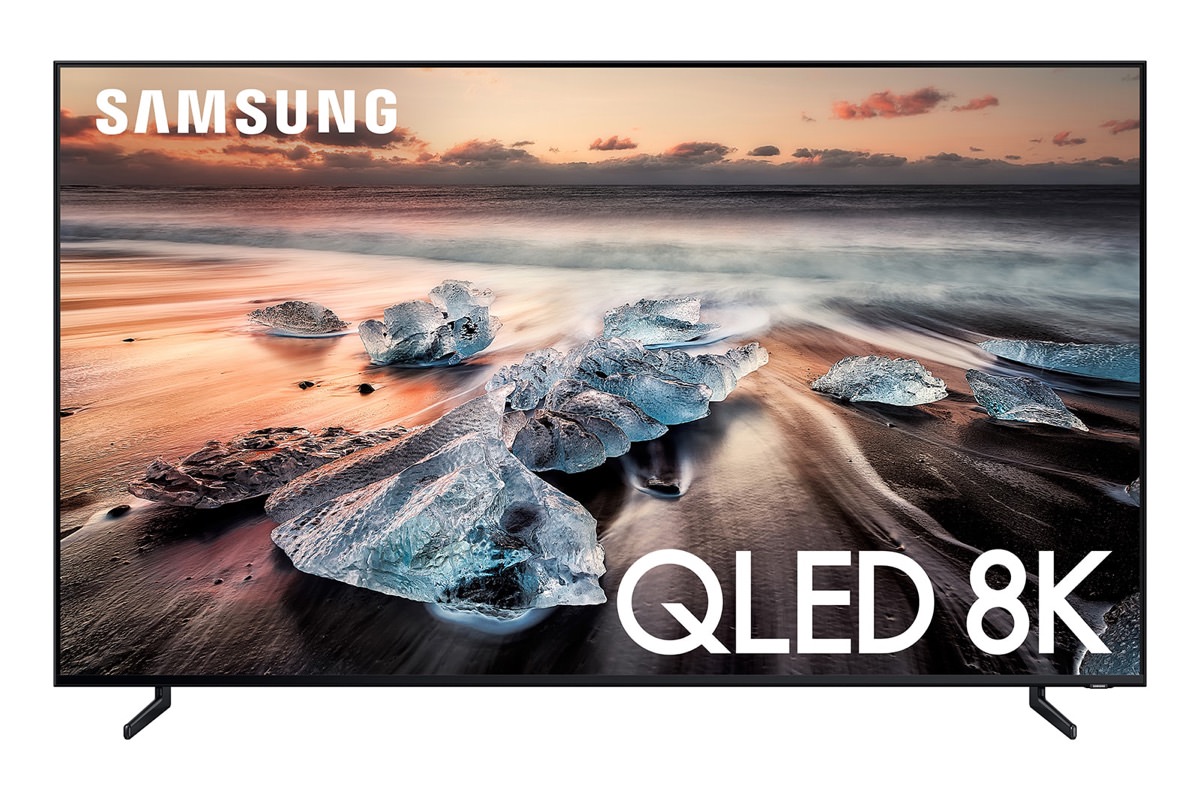 Also our exquisite 8K QLED TV will get an update in 2019. The Q950R will add the new 2019 QLED innovations; – the Q Ultra Wide Angle panel with refined light control, resulting in a wider viewing angle.
It will also ship with an updated One Connect Box, supporting up to 60fps/@8K, as defined in HDMI2.1.
That means you can connect external devices and view full resolution 8K content with up to 60 frames per second. With Q950R we will also see two new screen sizes in 8K; with 82" and 98" versions we further expand our offer in Super Large Screens.
The Frame 3.0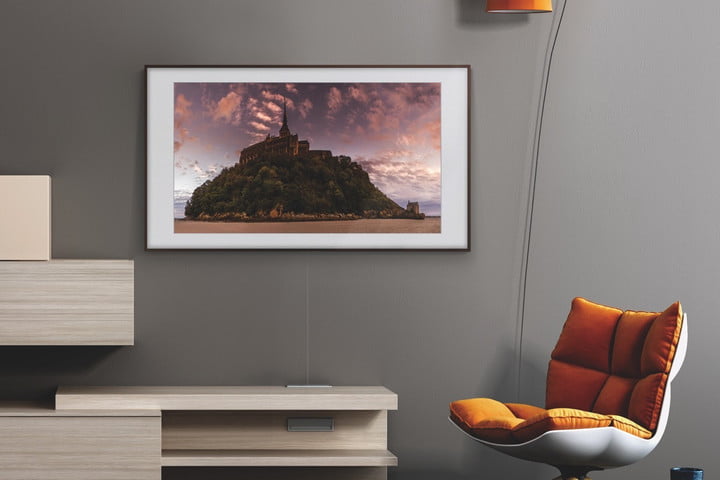 Although the Frame TV is a timeless beauty, it will also benefit from a 2019 update.
The 3.0 version will add QLED technology to the iconic concept. With QLED, the Frame will get improved color gamut, and will let you enjoy vivid and natural colors in every scene thanks to 100% Color Volume.
These enhancements will just add to all the aspects that has made us love this TV; – the Samsung Collection and the Art Store, the interchangeable frames, the clever No-gap wallmount and the discrete cable solution with the One Connect Box.
Serif 2.0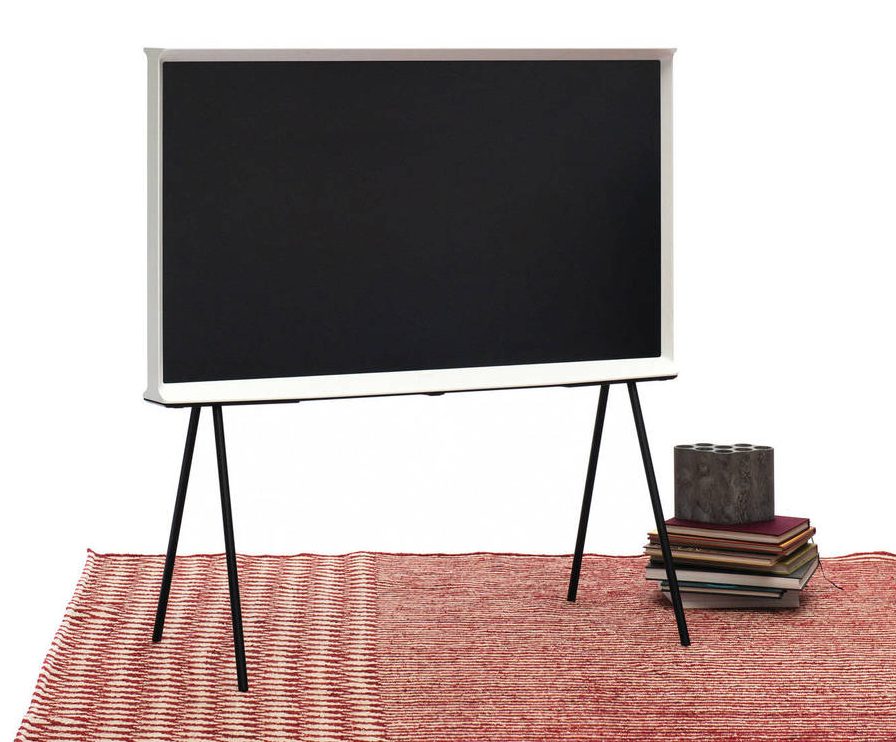 2019 will also let us see the return of the unique Serif TV. The 2.0 version will come with our famous QLED TV technology for excellent picture quality, night and day.
This time, you will find it in larger panel sizes, matching the trends of larger screens in our homes. The 2019 Serif will come in 43", 49" and 55" inch screen sizes.
One unique feature for the Serif, is the NFC option that will allow for a super-easy connection for NFC-enabled smart phones to use the Serif as a speaker for Bluetooth audio.
Just select and play your favourite tune from your mobile, and place it on top of the Serif. NFC will detect your phone, start the TV in speaker mode, and let you enjoy the playback in the 40W speaker system.
Priser
Her er de danske priser på Samsungs 2019 TV-modeller.
Serie
Model
Pris (kr)
RU71
UE43RU7105
3.990,-
UE50RU7105
4.990,-
UE55RU7105
5.990,-
UE58RU7105
6.990,-
UE65RU7105
7.990,-
UE75RU7105
16.990,-
UE82RU7105
Ikke prissat endnu
RU73
UE49RU7305
5.490,-
UE55RU7305
6.490,-
UE65RU7305
8.990,-
RU7405
UE43RU7405
4.490,-
UE50RU7405
5.490,-
UE55RU7405
6.990,-
UE65RU7405
9.990,-
RU7415
UE43RU7415
4.990,-
UE50RU7415
5.990,-
RU8005
UE49RU8005
7.490,-
UE55RU8005
7.990,-
UE65RU8005
11.990,-
UE82RU8005
26.990,-
Q60
QE43Q60
5.990,-
QE49Q60
7.490,-
QE55Q60
9.490,-
QE65Q60
13.490,-
QE75Q60
19.990,-
QE82Q60
29.990,-
Q70
QE49Q70
9.990,-
QE55Q70
11.990,-
QE65Q70
16.990,-
QE75Q70
27.990,-
QE82Q70
34.990,-
Q80
QE55Q80
15.990,-
QE65Q80
19.990,-
Q85
QE55Q85
17.990,-
QE65Q85
21.990,-
QE75Q85
33.990,-
Q90
QE55Q90
19.990,-
QE65Q90
27.990,-
QE75Q90
39.990,-
Q950
QE65Q950
37.990,-
QE75Q950
52.990,-
QE82Q950
74.990,-
QE98Q950
Ikke prissat endnu
SERIF
QE43LS01
8.990,-
QE49LS01
10.990,-
QE55LS01
12.990,-
FRAME
QE43LS03
9.990,-
QE49LS03
10.990,-
QE55LS03
12.990,-
QE65LS03
16.990,-
Se også
Sådan virker Google Assistant og Bixby på Samsung TV